Les moustiques de l'Afrique mineure, de l'Egypte et de la Syrie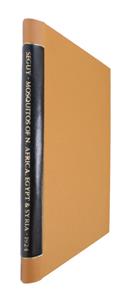 Description:
Étude comparative des moustiques des régions méditerranéennes, de l'Europe centrale et septentrionale leurs parasites suivie du Catalogue des culicides néarctiques et paléarctiques. Encylopédie Entomologique I.
Condition
8vo, bound, recent buckram, leather title piece; paper browned. Owner's name to fly-leaf. Vg.
Other titles from the series : Encyclopedie Entomologique
Other titles from the collection : Prof Jim Green
You may also like...