Life Cycles of British & Irish Butterflies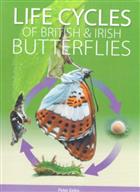 Description:
Provides unique insights into the hidden world of the butterflies of Britain and Ireland by focusing on their life cycles, with detailed descriptions and photos of the adult, egg, caterpillar and chrysalis of each species. The book also includes for the first time, a description and photos of every larval instar for each species, highlighting any differences in appearance.
Each species description includes details and photos of the habitats occupied by the butterfly, along with a summary of its distribution, conservation status and the timing of each stage during the year.
You may also like...