Limnology and Aquatic Birds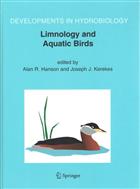 Description:
Reprinted from Hydrobiologia, Vol. 567. Proceedings 4th Conference Working Group on Aquatic Birds of Societas Internationalis Limnologiae (SIL), Sackville, New Brunswick, Canada, 2003.
Condition
Owner's name to endpaper. Fine copy.
Other titles from the series : Developments in Hydrobiology
Other titles from the collection : Prof Jim Green
You may also like...