Liste der Autoren zoologischer Artbegriffe zusammengestellt für die zoologische Sammlung des Königlichen Museums für Naturkunde in Berlin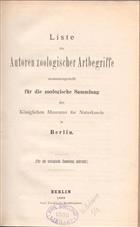 Description:
Text German. List of authors of zoological species names (with their abbreviations), compiled for Königliches Museum für Naturkunde in Berlin
Condition
Bound in cloth. Ex-lib. (ZSL): small stamp to title page. Vg
You may also like...