Lobsters: Biology, Management, Aquaculture and Fisheries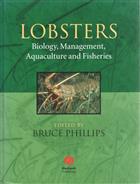 Description:
1st edition. A comprehensive book covering the major commercially exploited species of lobsters worldwide. Divided into two major parts, Part I contains general chapters on growth, development and reproduction, behaviour, phylogeny and evolution, pathogens, parasites and commensals, nutrition, and larval, postlarval, juvenile and adult ecology. Part II contains chapters on each of the lobster genera of commercial importance, with the contents of each chapter including: species and distribution, life history and reproduction, predators and diseases, ecology and behaviour, population dynamics, harvesting, aquaculture and enhancement, and management and conservation.
You may also like...