Mammalia IV: Cetacea (Fauna d'Italia 49)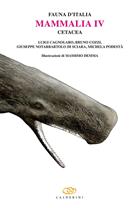 Description:
Text Italian. This work, the result of the collaboration of about twenty specialists, is developed in two complementary parts: a large general section, which provides an analysis of the themes of the study of Cetaceans in the light of a wide world literature, and a second section with the description of the individual species. This includes the 23 species that have been recorded in the Mediterranean.
Other titles from the series : Fauna d'Italia
You may also like...