Mammals of the Rocky Mountains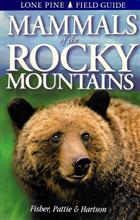 Description:
This comprehensive guide to the mammals of the Rockies features 91 species organized in six major groups: hoofed mammals, carnivores, rodents, hares and pikas, bats, shrews and opossums. An 8-page pictorial reference guide aides with quick identification. Full-page colour photos, colour illustrations, tracks and range maps.
Condition
As new.
Other titles from the collection : Library of Trevor James (1947-2020)
You may also like...