Management Planning for Nature Conservation: A Theoretical Basis & Practical Guide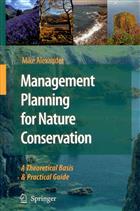 Description:
Combining key theories with real practice this book fills a critical gap which has often hindered in-depth understanding of the planning process. The book provides historical and rational background which helps to explain what makes a really effective management plan, and it presents a detailed practical guide to developing such a plan. It concludes with a series of case studies which clearly illustrate the underlying principles drawn out in the text, while highlighting the different approaches demanded by very different sites. Essential reading for professional conservation managers and any student studying management planning for conservation within a range of degree and postgraduate courses. The book will be equally important for those attending professional training programmes and courses for practitioners in the statutory and voluntary environment and wildlife conservation sector
You may also like...