Marine and Freshwater Fishes of Jamaica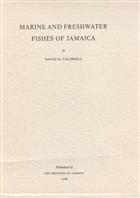 Description:
Bull. Inst. Jamaica Science Series, No. 17.
Condition
Orig. wrappers, ink title to spine; owner's name to half-title. Vg.
Other titles from the series : Bulletin of the Institute of Jamaica Science Series
Click to view all titles in this series...

Other titles from the collection : Prof Jim Green
You may also like...