Marsilea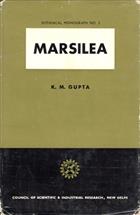 Description:
Botanical Monograph no 2. The results of the author's studies on the Indian species of the water fern Marsilea together with their bearing on the systematics of the genus.
Condition
Vg in slightly worn d/w.
Other titles from the series : CSIR Botanical Monograph
Click to view all titles in this series...

Subramanyam, K.
Price £35.00
Other titles from the collection : Prof Jim Green
You may also like...