Mineral Phases in Biology: Proceedings of a Royal Society discussion meeting Held on 1 and 2 June 1983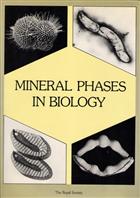 Description:
First published in Philosophical Transactions of the Royal Society of London series B, vol 304. Describes the nature of five major biological minerals; calcium carbonates, calcium phosphates, silica, iron oxides and ice and the organic molecules that are found associated with them.
Condition
Vg in d/w. Owner's name neatly written to endpaper.
Other titles from the collection : Prof Jim Green
You may also like...