Minutes in Agriculture and Planting ... Illustrated with Specimens of eight Sorts of the best, and two Sorts of thw worst Natural Grasses ...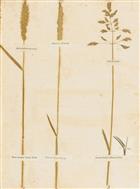 Publisher : Printed by J. Hellaby
Published In : Boston [Lincs.]
Illustrations : 3 plates with dried grass samples, 9 engraved platess (2 hand-col)
Description:
I. On the Structure and component Principles of Vegetables. II. On the Culture and Use of nine of the best artificial, and of eight of the best natural Grasses. III. On the Construction and Use of a Sward Dresser. IV. On the Construction and Use of a Thistle Cutter. V. On the Construction and Use of a compound Roller. VI. On the Construction and Use of a Tree-transplanter, for removing and planting large Trees. VII. On the Construction and Use of a Scuffle. VIII. On the Construction and use of a Couch Grass Drag. IX. On the Construction and Use of a Couch Grass Rake.
First edition. Rare. With 10 well preserved, dried grass specimens (on three leaves), each secured with two printed name labels (English and Latin names) pasted across the stem, two specimens with small printed figures showing detail pasted alongside; two hand-coloured plates of grasses; seven plates of agricultural equipment by the author and engraved by B. Howlett. Single leaf manuscript index bound in at rear. As with other copies seen, the line following the imprint at the foot of title-page has been neatly erased.
William Amos (c.1745-1825) was a Lincolnshire farmer, bailiff and steward. At Brothertoft in Lincolnshire he was estate steward to the political reformer John Cartwright. Through his collaboration with Cartwright, Amos also met their near neighbour Sir Joseph Banks, who later described Amos as 'an honest man and an ingenious one' (Wikipedia). Amos contributed through his inventions and published writings to the British agricultural revolution. He designed a number of improved agricultural machines and actively promoted more efficient farming techniques.
Goldsmiths'-Kress, 18817.
Condition
4to, cont. half calf, marbled boards, rubbed, corners worn, leather spine label chipped. Some foxing and offsetting. Good copy.
Contemporary bookplate of S. Hanbury and small ink stamp to endpaper.
You may also like...