Miscellanea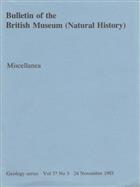 Description:
Bull. BM(NH) Geology 37(3): 79-171. Contents: S. Archangelsky & R.H. Wagner, Glossopteris anatolica sp. nov. from uppermost Permian strata in south-east Turkey; E. Buffetaut, The crocodilian Theriosuchus Owen, 1879 in the Wealden of England; H.L. Fisher & J. Watson, A new conifer species from the Wealden beds of Féron-Glageon, France; C.R. Hill & A.A. El-Khayal, Late Permian plants including Charophytes from the Khuff Formation of Saudi Arabia; A.B. Smith, British Carboniferous Edrioasteroidea (Echinodermata); P.E.S. Whalley, A survey of Recent and fossil Cicadas (Insecta, Hemiptera-Homoptera) in Britain; E.I. White & H.A. Toombs, The Cephalaspids from the Dittonian section at Cwm Mill, near Abergavenny, Gwent.
Condition
Vg.
Other titles from the series : Bulletin of The Natural History Museum: Geology
You may also like...