Mites: Ecology Evolution & Behaviour: Life at a Microscale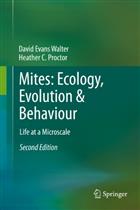 Publisher : Springer
Illustrations : 128 illus (31 col)
Description:
2nd edition. Aimed at the general naturalist and other non-experts - Ideal for students and researchers unfamiliar with mites - Lavishly illustrated with drawings and electron micrographs - The only introductory book on mite behaviour and ecology in English
What creatures live in the dark depths of the ocean, in the lungs of birds, in the canopies of rainforests and in the pillow beneath your head? MITES. Wherever biologists have peered, from forest floors to facial pores, they have found these tiny arachnids. More than 40,000 species have been described, and up to 1 million may grace our planet. Mites are predators, parasites, herbivores and detritivores. They are vectors of disease, vital players in soil formation and important agents of biological control. But despite the grand diversity of mites, even trained biologists are often unaware of their significance.
This book aims to fill the gaps in our understanding of these intriguing creatures. It surveys life cycles, feeding behaviour, reproductive biology and host-associations of mites without requiring prior knowledge of their morphology or taxonomy. Topics covered include evolution of mites and other arachnids, mites in soil and water, mites on plants and animals, sperm transfer and reproduction, mites and human disease, and mites as models for testing ecological and evolutionary theories.
Richly illustrated with 128 diagrams, pictures and scanning-electron micrographs, 31 of which are in colour, Mites: Ecology, Evolution and Behaviour (2nd edition) combines the authors' more than 50 years of experience as acarologists with reviews of more than 1600 journal articles and books (450 of these new since the first edition) to reveal the bizarre ingenuity and the importance of these fascinating animals.
You may also like...