Monitoring the Abundance of Butterflies 1976-1985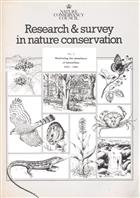 Condition
Wrappers. From the library of Gerry Tremewan (1931-2016) without ownership marks, with his book review, published in the Entomologist's Gazette loosely inserted.
Other titles from the series : Research & Survey in Nature Conservation
Click to view all titles in this series...



Other titles from the collection : The Library of W.G. Tremewan
You may also like...