Moths of Victoria Pt 8: Noctuoidea (B) (Aganaidae, Erebidae (part), Noctuidae (part)) - Night Moths and Allies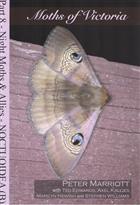 Description:
Includes a CD with 300 additional pages with information, biology and distribution for each species. This is the second part to cover the Noctuoidea, and includes the family Aganaidae and parts of the Erebidae and Noctuidae. Almost 160 species are included, and over 700 images.
Other titles from the series : Moths of Victoria
You may also like...