Natural Enemies: The Population Biology of Predators, Parasites and Diseases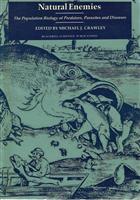 Description:
This book describes the evolution and ecology of all carnivorous organisms from whales and lions, down to virus and bacteria. It addresses questions such as: How do natural enemies affect the distribution and abundance of their prey, and how have natural enemies functioned as agents of natural selection affecting the evolution of behaviour and morphology in their prey?
Condition
Vg.
Other titles from the collection : Michael Archer's Library
You may also like...