Natural Theology; or, Evidences of the Existence and Attributes of the Deity. Collected from the appearances of nature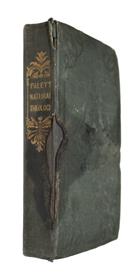 Description:
A new edition (first published in 1802).
Condition
12mo, orig. cloth, spine and front board damaged with some loss, crudely repaired, hinges reinforced with paper strips; singe marks to inner margin of the first few pages; lacks front endpaper; text clean.
Other titles from the collection : Ken Smith
You may also like...