Nature's Wealth: the Economics of Ecosystem Services and Poverty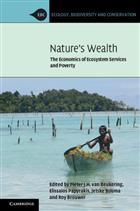 Description:
Increasing pressure from economic development and population growth has resulted in the degradation of ecosystems around the world and the loss of the essential services that they provide. Understanding the linkages between ecosystem service provisioning and human well-being is crucial for the establishment of effective environmental and economic development policy. Presenting new insights into the relationship between ecosystem services and livelihoods in developing countries, this book takes up the challenge of assessing these links to demonstrate their importance in policy development. It pays special attention to innovative management opportunities that improve local livelihoods and alleviate poverty while enhancing ecosystem protection. Based on eighteen studies in more than twenty developing countries, the authors explore the role of biodiversity-, marine-, forest-, water- and land-related ecosystem services, making this an invaluable contribution to research on the role of ecosystems in supporting the livelihoods of the poor around the world.
Condition
As new.
Other titles from the series : Ecology, Biodiversity and Conservation
You may also like...