On Hypsiprymnodon, Ramsay, a Genus indicative of a distinct Family (Pleopodidæ) in the Diprotodont Section of the Marsupialia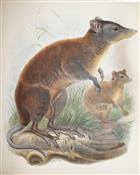 Collection : Ken Smith
Publisher : Linnean Society
Published In : London
Illustrations : 1 hand-col + 1 b/w plate, 3 text figs
Description:
From the Trans. Linn. Soc., 2nd Ser. - Zoology, 1(8): 573-582. Includes a colour illustration by Joseph Wolfe of Hypsirymnodon moschatus, Ramsy, the musky rat-kangarooa, small marsupial found only in the rainforests of northeastern Australia.
Condition
4to, plain wrappers, pages unopened. Vg.
Other titles from the collection : Ken Smith
You may also like...