Orchid Summer: In Search of the Wildest Flowers of the British Isles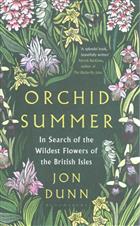 Description:
'Orchid Summer' is a journey into Britain and Ireland's most beautiful corners in search of orchids, the wildest and most captivating flowers of the British Isles. The flowers that are the focus of this treasure hunt are exquisite and diverse. Some resemble insects and develop scents that mimic the smell of a virgin female wasp in order to lure male wasps to sample their unsatisfying charms. Some tower above the surrounding vegetation; others are vanishingly small and discreet. Some are sweetly scented; others smell of ripe billy goats. Some are readily found, others are very elusive – none more so than the last to flower, the rarest of them all, the ghost orchid…
You may also like...