Papers on the Hydrobiology of Lago di Bolsena (Lake Bolsena, Italy)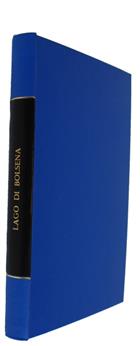 Description:
Text Italian (one in English) with Abstracts in English. Eight papers on the hydrobiology of Lake Bolsena, Italy, extracted from Mem. Ist. It. Idrobiol. No 20: Lago di Bolsena: rilevamentao batimetrico e note morfologiche (L. Barbanti & A. Carollo, 1966); 21: Lago di Bolsena: caratteristiche chimiche delle acque pelagiche (M. Gerletti, 1967), 21: Lago di Bolsena: distribuzione e variazioni stagionali di Asellus (Proasellus) coxalis Dollfus (D. Ruggiu, 1967); 22: Caratteristiche idrometeorologische del bacino del lago di Bolsena (A. Carollo, 1967); 23: Lago di Bolsena: composizione, distribuzione e biomassa del benton profondo (G. Bonomi & D. Ruggiu, 1968); 25: Diversita biotica nel macrobenton dei laghi di Mergozzo e di Bolsena (D. Ruggiu, 1969); 29: Structure and dynamics of pelagic zooplankton in lakes Bolsena, Bracciano and Vico (Central Italy) (I. Ferrari, 1972); 30: La fauna macrobentonica litorale e sublitorale dei laghi di Bolsena, Bracciano e Vico (Italia Centrale, Lazio) (A. M. Nocentini, 1973). With a large folding bathymetric map of Lake Bolsena in rear pocket.
Condition
8vo, recent buckram, leather titile-piece to spine, gt. Vg. From the library of Professor J. Green (1928-2016) with his name to endpaper.
Other titles from the collection : Prof Jim Green
You may also like...