Provisional Atlas of British Spiders (Arachnida, Araneae) Vols 1-2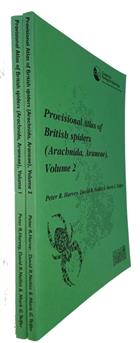 Condition
Vg set. From the library of Keith Hyatt (d. 2021), acarologist at the Natural History Museum, London, and prominent member of the London Natural History Society, with his name inside front covers. Book review of present book from The London Naturalist (2002) pasted to rear of the Contents page of Vol. 1.
Other titles from the series : Provisional Atlases
Other titles from the collection : Keith Hyatt
You may also like...