Recent Advances in Entomology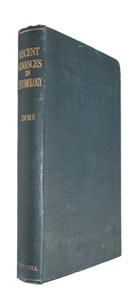 Description:
First edition.
Condition
8vo, orig. cloth, minor bumps to corners. Vg. From the library of K.G.V. Smith (1929-2017), leading British dipterist at the Natural History Museum, London, and editor of the Entomologist's Monthly Magazine, with his name to endpaper. Also with previous ownership signature of H. Oldroyd (1913-1978), British dipterist and author of several books, including The Natural History of Flies (1968).
Other titles from the collection : Ken Smith
You may also like...