Records and descriptions of Microlepidoptera from Lord Howe Island and Norfolk Island collected by the British Museum (Natural History) Rennell Island expedition, 1953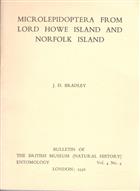 Description:
Bull. Br. Mus. nat. Hist. (Ent.), Vol. 4(4).
Condition
Neat annotations to text.
Other titles from the series : Bulletin of The Natural History Museum: Entomology
You may also like...