Reef Fishes of South-East Asia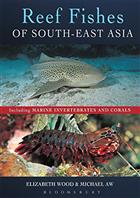 Description:
A comprehensive and easy-to-follow guide. Covers the waters off the coasts of Thailand, Hong Kong, China, Malaysia, Taiwan, Singapore, Indonesia and the Philippines. This compact book, illustrated with vibrant colour photographs, is an essential companion for anyone interested in the undersea world, from the casual snorkeller to the most experienced diver. It includes concise descriptions of 270 species of fish, corals and invertebrates, accompanied by 300 full-colour photographs, and information on habitat, diet and behaviour. Clear line drawings are provided for quick identification of fish families, and a short introduction covers reef conservation and practical tips to help you get the most out of your visit to the region.
You may also like...