Report on the Echinoidea Collected by the United States Fisheries Steamer "Albatross" during the Philippine Expedition, 1907-1910. Parts 2-3.Mosses; Bryophytes; Bryophyta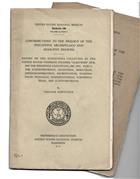 Description:
Part 2: The Echinothuridae, Saleniidae, Arbaciidae, Aspidodiadematidae, Micropygidae, Diadematidae, Pedinidae, Temnopleuridae, Temnopleuridae, Toxopneustidae, and Echinometridae. Part 3: The Echinoneidae, Echinoiampadidae, Clypeastridae, Arachnoididae, Laganidae, Fibulariidae, Urechinidae, Echinocorythidae, Palaeostomatidae, Palaeopneustidae, Hemiasteridae, and Spatangidae. United States National Museum Bulletin 100, vol.14 (1) + (3)
Condition
Wrappers. Ex-lib. Good.
Other titles from the series : United States National Museum Bulletin
You may also like...