Researches in Polynesia and Melanesia. An Account of Investigations in Samoa, Tonga, The Ellice Group, and the New Hebrides, in 1924, 1925. Parts I-IV (Relating principally to Medical Entomology)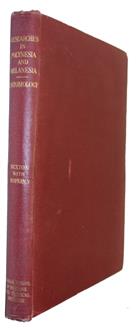 Description:
London School of Hygiene and Tropical Medicine, Memoir No. 1
Condition
Vg. Inscription from the author P. A. Buxton Patrick Alfred Buxton. Photograph. Wellcome V0027761.jpg
Born Patrick Alfred Buxton
24 March 1892
Died 13 December 1955 (aged 63)
Awards
FRS (1943)[1]
CMG (1947)
Linnean Medal (1953)
Scientific career
Fields Entomology
Patrick Alfred Buxton (1892 – 1955) to L. J. Bruce-Chwatt (1907–1989, dated 1948.
You may also like...