RSPB ID Spotlight - Birds of Prey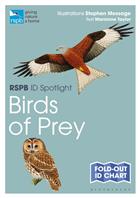 Description:
Whether it's a soaring eagle or a restlessly gliding owl, chances are you will know a bird of prey when you see one, and there is something in the way they fly that captivates our gaze. But can you tell a Goshawk from a Peregrine? Or distinguish between a Common Buzzard and Honey Buzzard in flight? The UK has just 16 species of raptors and five owls, but among them are some of the world's most spectacular birds.
RSPB ID Spotlight Birds of Prey is a reliable fold-out chart that presents illustrations of all 21 of the UK's birds of prey by renowned artist Stephen Message.
- Species are grouped by family and helpfully labelled to assist with identification
- Artworks are shown side by side for quick comparison and easy reference at home or in the field
- The reverse of the chart provides information on the habitats, behaviour, life cycles and diets of our birds of prey, as well as the conservation issues they are facing and how the RSPB is working to support them
- Information on successful UK raptor reintroductions and other campaigns that help our birds of prey are also included
The RSPB ID Spotlight charts help wildlife enthusiasts identify and learn more about our most common species using accurate colour illustrations and informative, accessible text.
Other titles from the series : RSPB Spotlight Guides
You may also like...