RSPB ID Spotlight - Coastal Birds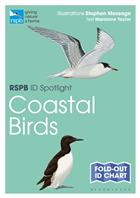 Description:
Whether you are scanning cliff faces packed with auks or watching large seabirds dive underwater to find food, visiting a colony of coastal birds is an unforgettable experience. But can you tell a Razorbill from a Guillemot? Or accurately distinguish between a Fulmar and a Common Gull? The vast and varied coastline of the UK provides refuge for an enormous number of seabirds that visit our shores to breed or spend the winter months here.
RSPB ID Spotlight Coastal Birds is a reliable fold-out chart that presents illustrations of 44 of our most widespread and familiar coastal birds by renowned artist Stephen Message.
- Species are grouped by family and helpfully labelled to assist with identification
- Artworks are shown side by side for quick comparison and easy reference at home or in the field
- The reverse of the chart provides information on the habitats, behaviour, life cycles and diets of our coastal birds, as well as the conservation issues they are facing and how the RSPB is working to support them
- Advice on the best time of year to visit a seabird colony and practical tips on what we can all do to reduce the plastic waste that can end up in our seas are also included
The ID Spotlight charts help wildlife enthusiasts identify and learn more about our most common species using accurate colour illustrations and informative, accessible text.
Other titles from the series : RSPB Spotlight Guides
You may also like...