Schmeil-Fitschen: Die Flora Deutschlands und Angrenzender Länder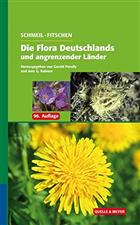 Publisher : Quelle & Meyer
Illustrations : 32 col plates, line drawings
Description:
Text German. 96th edition of this standard identification guide to all wild and commonly cultivated vascular plants found in Germany and neighbouring regions. Completely revised. Includes more than 4,600 taxa.
With over 2.5 million copies sold, Schmeil-Fitschen Die Flora Deutschlands und Angrenzender Länder (often simply known as the Schmeil-Fitschen), is the most successful flora of its kind since its first publication in 1906.
You may also like...