Scorpions of the World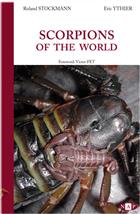 Publisher : NAP Editions
Illustrations : 400+ col photos of living scorpions
Description:
Text English. Biology of the scorpions (anatomy, biology, ecology, etc.); Venoms and medical importance; Scorpions in myth & legend; Rearing advice. Key to families and a description of the genera; complete list of the currently known species with their distribution. More than 350 species described and illustrated
You may also like...

Ratcliffe, B.C.; Cave, R.D.; Paucar-Cabrera, A.
Price £38.00