Sea Fishes of the Mediterranean including Marine Invertebrates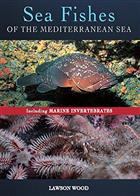 Description:
Reveals the fascinating wealth of sea life found in this diverse but little-documented region. This compact and easy-to-use guide, illustrated with many specially-commissioned colour photographs taken in a number of unique and exotic locations, is an essential companion for anyone interested in the marine life of the many seas that make up the Mediterranean Sea. Designed to be of practical use to divers, snorkelers and underwater photographers, this guide will be welcomed by the increasing number of visitors to the Mediterranean, which has become one of the most popular dive destinations in the world. It covers Gibraltar, Spain, France, Monaco, Corsica, Sardinia, Italy, Malta, Croatia, Greece, Crete, Cyprus, Turkey, Syria, Lebanon, Israel, Egypt, Libya, Tunisia, Algeria and Morocco.
You may also like...