Shotover: The Life of an Oxfordshire Hill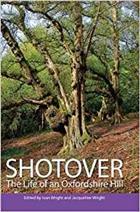 Description:
This book attractively summarises two decades of recording and research across Shotover's rich variety of habitats, and is a lasting tribute to the hard work of a team of specialists working for the sheer love of their subject. It will remain the reference work on the area for the foreseeable future. The work of Shotover Wildlife could serve as a model for other wildlife groups to put on record our biodiversity in the 21st century to guide us towards safeguarding its future for generations to come.
You may also like...