Sir Hans Sloane: Life and Mineral Collection Part III Mineral Pharmaceutical Collection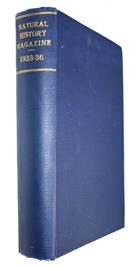 Description:
A fascinating paper on Sir Hans Sloane' medicine chest of minerals discovered in 1931, pp 145-164. Bound in Natural History Magazine 1933-1936, Nos 25-29+32 (from vol. IV), 36-40 (from vol. V), bound in 1 volume. Includes many other interesting articles about the British Museum (Natural History), London and its collections.
Condition
Blue cloth. Occasional light foxing. Vg
You may also like...