Solitary Bees (Naturalists' Handbooks 33)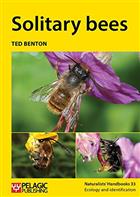 Description:
In Britain and Ireland there are about ten times more species of solitary bee than bumblebee and honeybee combined, yet the solitary bees tend to be ignored and we know much less about them. They are a fascinating, attractive and diverse group that can be found easily in a ide range of habitats, both urban and rural, and they are important as pollinators. This book provides an introduction to the natural history, ecology and conservation of solitary bees, together with an easy-to-use key to genera.
Chapters cover: Diversity and recognition; Bee lives; Cuckoos in the nest; Bees and flowers; The conservation of solitary bees; Approaches to practical work; Keys to the genera of bees of the British Isles - Females and Males; and References and further reading.
Other titles from the series : Naturalists' Handbooks
You may also like...