Statistics for Ecologists Using R and Excel: Data Collection Exploration Analysis and Presentation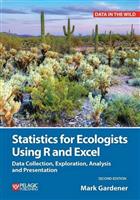 Description:
2nd edition. Step-by-step instruction on all common undergraduate-level statistical tests in R and Excel. Heavily illustrated with screenshots and code examples. Extensive support material and end-of-chapter exercises.
Other titles from the series : Data in the Wild
Click to view all titles in this series...

Gardener, M.
Price £59.99
You may also like...