Stem Anatomical Features of Dicotyledons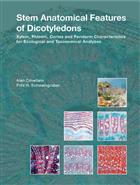 Description:
Illustrated in colour throughout with hundreds of colour-microphotographs. Presents over 400 anatomical characters of wood and bark in stems of hundreds of species. Photographs show an unexpectedly wide range of anatomical structures of wood from lightly lignified annual rings in high alpine herbs as well as fully woody tissues in lowland mediterranean trees. All features have a code which makes the classification compatible with other electronic datasets. Presents a wealth of features of relevance for dendrochronologists, plant anatomists and ecologists.
You may also like...