Studies on the fauna of hot springs in the western United States and the biology of thermophilous animals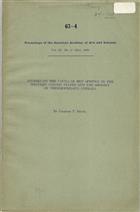 Description:
Proceedings of the American Academy of Arts and Sciences. Vol. 63-4: 139-228.
Condition
Wrappers. From the library of Prof. J. Green (1928-2016) with his name to endpaper.
Other titles from the collection : Prof Jim Green
You may also like...