Subterranean Arachnids of the Western Italian Alps / Aracnidi sotterranei delle Alpi OccidentaliitalianeItalian Alps / Aracnidi sotteranei delle Alpi Occidentali italiane (Arachnida: Araneae, Opiliones, Palpigradi, Pseudoscorpiones)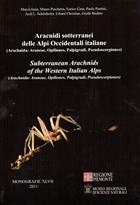 Description:
Text Italian/English. Illustrates in detail the subterranean arachnological fauna (excluding mites and scorpions) of the Western Italian Alps (Piedmont and Aosta Valley). For each species: references, chorotype, diagnostic illustrations, photographs taken in the field, distribution, ecology. Covers 75 species of spiders, 14 opilionids, 2 palpigrads and 14 pseudoscorpions, surveyed from 361 subterranean locations
Other titles from the series : Monografie/Museo Reg. Sci. Nat., Torino
You may also like...