Sveriges Fjärilar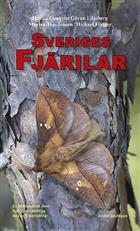 Description:
Text Swedish. 2nd updated edition, including additional species recorded since the first edition (2011). Approx. 200 images are new and improved. Field guide to all the approx. 1,100 species of butterflies and larger moths found in Sweden. All species illustrated in colour with photos of both living insects and set specimens. For each species information is given on, similar species, flight period, biotope, food plants, habitat information and distribution in Sweden. There are additional illustrations of typical immature stages.
Condition
A new copy, but with a faint water stain to top inner corner of first few pages.
You may also like...