Synopsis Florae Germanicae et Helveticae, exhibens stirpes phanerogamas rite cognitas, quae in Germania, Helvetia, Borussia et Istria sponte crescunt atque in hominum usum copiosius coluntur, secundum systema candolleanum digestas, praemissa generum dispo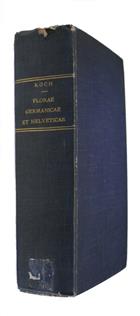 Description:
First edition. Includes Index published 1838.
Stafleu 3803
Daniel Joseph Koch (1771-1849) was a German physician and botanist. In 1824 he was appointed professor of medicine and botany at the University of Erlangen, and later was also director of the botanical gardens. His major publications were the 'Catalogus plantarum, quae in ditione Florae Palatinatus' 1814 as well as the present work.
Condition
8vo, rebound in cloth (chipped to head of spine). Ex-lib.: book-plate to endpaper; small label removed from spine; ink handwriting to fly-leaf. Some occasional spotting/minor marginal staining to text. Some marginal pencil annotations.
You may also like...