Systematics and geographic history of the genus Pyrgus in the Palaearctic region (Lepidoptera, Hesperiidae)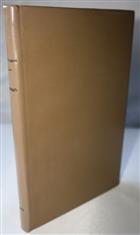 Description:
Tijdschrift voor Entomologie 115(1). A systematic and zoogeographic study on the Palaearctic species of the genus Pyrgus, comprising a taxonomic review, a description of the geographic variation and reconstruction of the geographic history. Some zoogeographic problems are discussed and the Pyrgus species are classified as faunal types
Condition
Recent, full leather, wood grain effect endpapers. Fine binding. Original printed wrappers bound in.
Other titles from the collection : Henri Dirickx Library
You may also like...