Systematics, biology and evolution of some South African taxa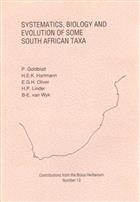 Description:
Proceedings of a symposium of the Southern African Society of Plant Taxoninmists, Grahamstown, 18 January, 1990. Contents: Goldblatt, P.: An overview of the systematics, phylogeny and biology of the African Iridaceae; Hartmann, H.E.K.; Mesembryanthema; Oliver, E.G.H.: The Erioideae (Ericaceae) - a review; Linder, H.P.: A review of the southern African Restionaceae; Van Wyk, B.E.: A review of the tribe Crotalarieae (Fabaceae).
Contributions from the Bolus Herbarium No. 13.
Condition
Vg.
Other titles from the collection : Library of Prof. Chris Humphries
You may also like...