Termites in Buildings: Their biology and control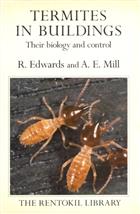 Description:
An easy-to-read survey of the biology, ecology and economic significance of termites throughout the world, in both their natural and man-made environments. Primarily intended for readers interested the practical control of termites of importance as structural pests. Includes detailed account of the various methods used for termite control, both those used before the building in constructed and those used after an untreated building becomes infested.
Condition
Fine copy in d/w.
Other titles from the series : The Rentokil Library
You may also like...