The Afrotropical Scythrididae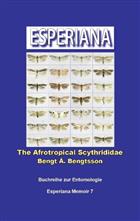 Description:
Esperiana Memoir 7. This work embraces all known taxa of the family Scythrididae in the Afrotropical Region. Seven genera are recognized from the area and 307 species are descried or re-described. Most species are illustrated in colour (imagines) and in black-and-white photographs (male and female genitalia). Among the 307 treated species 116 are previously described and 191 are new species.
Other titles from the series : Esperiana Memoir
You may also like...


Crofts, S.M.
Price £27.95