The Book of Seeds: A life-size guide to six hundred species from around the world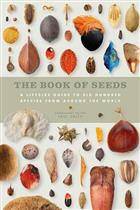 Description:
Seeds are often overshadowed by the adult plant's size and show. Here, 600 seeds are spotlit, each given equal attention, each shown as glorious photographs, life size and in detail, alongside an engraving of the parent plant. Every profile includes a population distribution map, a table of essential information, and a commentary revealing notable characteristics, related species, and a diagnosis of the specimen's importance in terms of taxonomy, rarity, dispersal method, and scientific significance. Arranged taxonomically, this essential reference reveals the variety and importance of seeds to an extent never seen before.
Other titles from the series : Ivy Press 'Book of ...' series
You may also like...