The Botany of San Jose Island (Gulf of Panama)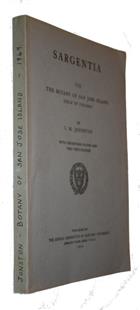 Description:
Sargentia VIII - a continuation of the Contributions from the Arnold Arboretum of Harvard University.
Condition
Orig. printed wrappers, ink lettering to spine. Vg. From the library of Prof. J. Green (1928-2016) with his name to title.
Other titles from the collection : Prof Jim Green
You may also like...