The Ecology of Lough Ine. Pt I-IX, XI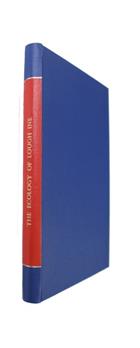 Description:
A series of papers on the ecology of Lough Ine, Republic of Ireland, reprinted from the Journal of Ecology. I. Introduction and hydrology; II. The fauna of the Sacchrhiza canopy; III. The effect of current on other environmental conditions; IV. The sedentary fauna of the sublittoral boulders; V. The sedentary fauna of the laminarian algae; VI. Effects of the rapids on the hydrography of the South Basin; VII. Distribution of some common plants and animals of the littoral and sublittoral regions; VIII. Mussels and their predators; IX. The flora and fauna associated with undergrowth-forming algae in the rapids area; XI. The control of algae by Paracentrotus lividus (Echinoidea).
Condition
10 papers bound in a single volume, 8vo, recent buckram with contrasting title-piece to spine; collective Title-page and Contents added. Vg.
Other titles from the collection : Prof Jim Green
You may also like...