The English Rock-Garden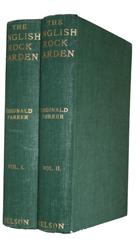 Description:
First published 1919. Reprint. Reginald Farrer (1880–1920), known as the 'Prince of Alpine gardeners' was a plant hunter who made an invaluable contribution to alpine gardening. He collected seeds and specimens from the Alps, Japan, Korea, Canada, Ceylon and China. In 1914, Farrer embarked on an expedition with William Purdom to north west China and Tibet He commenced this publication in 1913, and "corrected for press at Lanchou-fu, Kansu, China during the winter of 1914', but publication was delayed due to the 'oxigencies of war'. Vol 2 includes an appendix 'Report of Year's Work (1914) in Kans and Tibet', written in Lanchow, 1914. He published over twenty books as well as countless articles and notes from his expeditions.
Reginald Farrer died while on an expedition with his companion E.H.M Cox,to Upper Burma in the Minshan mountains.
Condition
2 vols, roy. 8vo, orig. cloth. Endpapers lightly browned, light marginal foxing, inscription to endpaper in pencil. Vg.
You may also like...